Aroma Incense Burner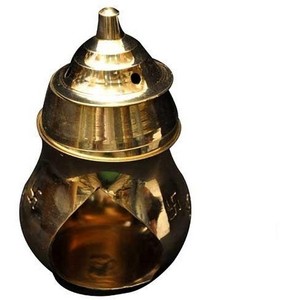 This unique aroma lamp/Camphor Lamp allows you to scent your home with any of your favourite
oil fragrances or camphor. To use it, simply add water to the bowl, put a few drops of your fragrance oil and
then lite a tea light or the any lamp to heat the bowl which diffuses the aroma throughout the room.
(Incase you wish to use camphor instead of aroma oil, no need to put water. Just place 3-4 pcs of camphor in the bowl)
These aroma lamps are natural way to experience the healing and relaxation.
Benefits of using Camphor Lamp
Camphor Lamp removes hindrances in the way of positive forces in environment. It also finishes any Vastu Dosha. The lamp can also apply in fulfilling wishes. The lamp should be charged by a Reiki Master before using it.

It is prepared with brass or ceramic. This is mostly used for fengshui (vastu) purpose. Best direction for these are South-East and South. However, you can put this even in any other direction, but avoid South-West.

Lightning the camphor is one of the processes in almost every Hindu Pooja. We can also use camphor candle or camphor pieces to remove negative energies. Try and obtain a pure camphor product or one that has some percentage of pure camphor known as 'Borneo camphor'

The advantages include removal of the energy equivalents of bacteria, worms, parasites that take away wealth and health energies.

It is also suggested to lit camphor in morning and evening. Negative energies gather strength from evening twilight on-wards. Light a mustard oil lamp for a few hours morning and evening. This does a clean up of the aura of the environment and for people it cleans up the lower chakras of the body which are responsible for discharging negative energies for the individual. These energies includes those of envy, anger, hatred, frustration, helplessness and so on.
Note :- Pictures Are Indicative Only product may be slightly different from the picture
Product Discription :-
Metal :- 100 % Pure Brass
Size :- Aprox 6 Inches
Weight : Aprox 300 Gms To 400 Gms
Buy it with confidence . I promise you 100% satisfaction on your purchase